Minimally Invasive Glaucoma Surgery (MIGS)
Micro-invasive Glaucoma Surgery 
MIGS is a very exciting field that's role in glaucoma treatment has grown exponentially in just the past few years.  Our surgeons are dedicated to providing the most advanced  and minimally invasive care to our patients.  Our doctors all treat glaucoma.  We perform all the MIGS procedures that are shown here.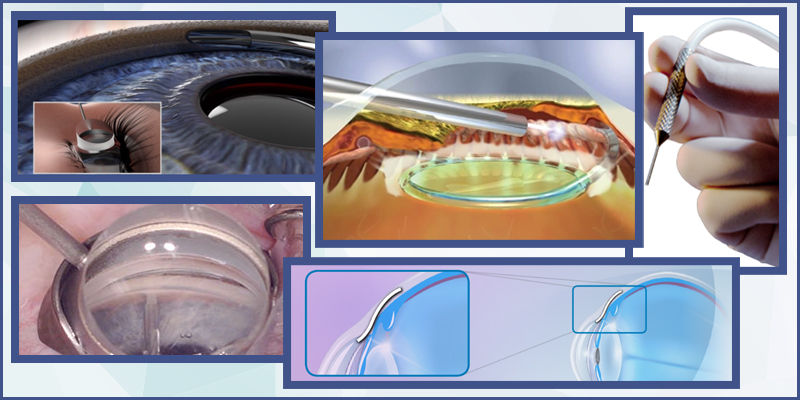 With all glaucoma treatment modalities, the goal is the same…Intraocular pressure (IOP) reduction.  Treatments are eye drops and oral medications, Selective Laser Trabeculoplasty, MIGS procedures and traditional filtering glaucoma surgery (trabeculectomy and tube and valve device glaucoma surgeries).  The traditional filtering surgeries are typically very good at lowering eye pressure.  These surgeries can sometimes have prolonged recoveries, complications including pressure that is too high or too low.  When performed they are typically performed only when all medications and other interventions have failed and additional optic nerve damage and vision loss seems high risk.
MIGS Procedures:
Because minimally invasive glaucoma procedures are microscopic and use smaller incisions, they are much lower risk for complications and typically have a quicker return of vision and recovery.  They can be performed with cataract surgery in patients who are treated for mild and moderate open angle glaucoma with some of the procedures and even severe glaucoma with several of the procedures.  Some of these procedures are available for treatment as stand alone procedures when cataract surgery is not being performed.
Click on any of the procedure types to learn more about that particular surgery.  All the MIGS surgeries have different mechanisms of action.   If you do not see your procedure on our site and would like more information, let us know how we can help.
Minimally invasive glaucoma surgery approaches: 
Increasing trabecular outflow: 
iStent INJECT (Trabecular Bypass)
Hydrus micro stent (Trabecular Bypass and Canulodilation)
Viscocanulodilation with Goniotomy (Omni Sciences System)
Reducing aqueous production:
Endocyclophotocoagulation (ECP)
Subconjunctival filtration:
SELECTIVE LASER TRABECULOPLASTY  SLT is not considered MIGS.
It is typically performed before progressing to surgery.  Also performed as an alternative to medications including as first line treatment for open angle glaucoma.
Minimally Invasive Glaucoma Surgery

Commonly used abbreviation
Standard glaucoma surgeries typically lower IOP well but have a long list of potential complications
The MIGS group of operations have been developed in recent years to reduce some of the complications of standard surgery
Microscopic sized equipment
Reduced risk for complications
Some degree of effectiveness may also be traded for increased safety